As a volunteer I get to know Portugal from a different perspective than tourists or casual visitors. I spend here a little bit more time. I interact with citizens out of touristic context and I experience everyday life, not only holiday adventures. So what are some secrets of Lisbon that I was able to discover so far? Check out my own mini-tourguide.
Gulbenkian Museum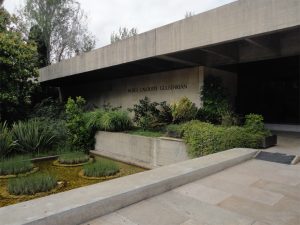 For museum lovers this is a must see. Rich collection, gathered by wealthy oli magnat Calouste Gulbenkian, became the foundation for this breathtaking exhibition. We can find there antient Egyptian statues, Hellenic coins and jewlery, Persian carpets and mosaics, traditional Chinese porcelain and European pieces of decorative art. But the biggest impression on me left the paintings, among them works of art by Rubens, Rembrandt, Degas and Monet.
Even for casual visitors, not necessarily interested in history and art, it is a place worth visiting. The building is surrounded by beautiful garden open for everyone, where many citizens of Lisbon seek shadow, peace and inspiration. It is also nice, not expensive place to grab a cup of coffee or lunch in the museum cafeteria.
National Museum of the Azulejo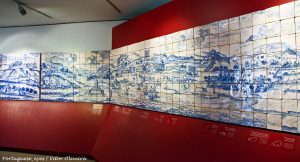 Another museum, this time strictly connected with Portuguese culture. For those who don´t know, azulejo is a traditional form of painted tiles, which we can find everywhere in Portugal. These colorfull ceramic decoration is visible on every street, every building, old monuments and modern architecture. They are not only historical artifacts, but very often they literally tell some stories by images.
The museum not only presents the history and many forms of azulejo, but also takes care of this heritage by documenting it, protecting and promoting the knowledge. For those, who are eager to get to know Portugal better it is a good place to start. After this visual feast, visitors can rest and eat something surrounded by nature in a small patio.
Jardim Botânico Tropical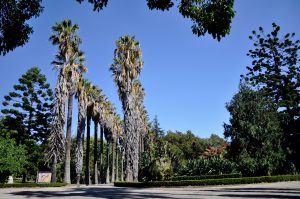 Speaking of nature, in Lisbon it´s easy to find a park or garden on every corner. But one of my favourite places is Jardim Botânico Tropical. Not many tourists are interested in it, since it is located in Belém, right next to the biggest attractions of this city. Everyone stands in a line to get inside Mosteiro dos Jerónimos or take a picture of Padrão dos Descobrimentos. Meanwhile, few steps away, there hides a perfect place to relax and travel around the botanical world. Bonus tip: before entering the garden, it is a good idea to stop by in Pastéis de Belém. This way, we can enjoy this traditional Portuguese pastry in beautiful location.
Murals and street art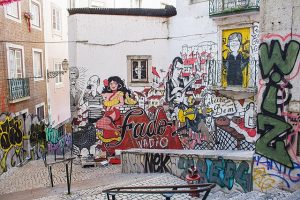 Like every big city, in Lisbon we can find many exemples of street art, some better than others. One of the most famous ones is Fado Vadio Mural, inspired by traditional type of Portuguese music, fado. It is hidden next to secret passage Escadinhas de São Cristóvão, connecting Rua da Madalena and Rua de São Cristóvão. Finding it might be a small challange, but satisfaction is guaranteed.
Another interesting mural I have to mention is History of Lisbon Mural by Nuno Saraiva. The most important events and figures connected with the capital city are shown in chronological order in a form of a comic book. What´s interesting is the fact that this piece of art is located in one of the most touristicaly famous view points, Miradouro das Portas do Sol. Everyone takes pictures of breathtaking view, unaware that under their feet there hides this colorful time machine. The stairs, which will lead us to the mural are located on the right side of the viewpoint.
One more interesting place that I want to mention here is Rua Nova do Carvalho. Yes, the whole street, or at least big part of it. Why? Because it´s… pink! Painted pavement creates fantastic composition with colorfull neighbourhood of Bairro Alto. It is also well known district to go and have some fun. Many bars and locals stay open all night, so if we want to party like Portuguese people, this is a perfect place.
Walking through Lisbon we will always discover some new street art. We just have to keep our eyes open.
Cacilhas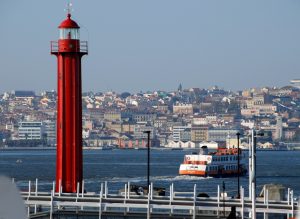 On the other side of the Tagus there are also touristic treasures ready to be discovered. One of them is Cacilhas, part of Almada where stops a ferry connecting Lisbon with the south bank of the river. Small walk will lead us to charming restaurants with panoramic view at the city and 25 de Abril Bridge. Going further we will find small park perfect for picnic, Naval Museum, old fishing docks and ruins of Quinta da Arealva – winery from 18th century. Eventually, at the end of this road we will get to the top of the hill where stands monumental statue Cristo Rei. This view is certainly unforgettable.
Lisbon hides many more secrets and even after a whole lifetime of visiting and exploration, it still surprises. These are a few places that I will definitely remember after my project. And I just can´t wait to find new things that I could add to this list.