… to Poland. Today is the day that first snow fall this year in Poland. It is much earlier than in previous years so everyone is surpised, me too. Friends and family sent me videos of falling snow, shining on the grass and trees. Here in Almada there is no snow, but I heard that there is snow in one portuguesse city called Serra da Estrela. Even if there is no snow in Almada, the temperature is quite low and I feel cold, what I didnt expect before going to Portugal. My nose is cold all the time, but luckily I haven't caught any cold. Im going to Polnad for Christmas, so going back to Portugal I´ll take more winter clothes, scarf and winter cap too.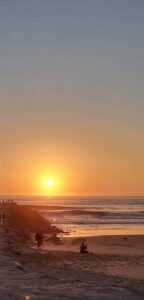 I think this low temperature and cold wind is due to the fact that there is an Ocean here. The humidity is high and we can feel everyday cold wind. Similar situation happens on polish coast, for example in Gdansk, the wind is always cold and winters are colder than in middle of Poland. Costa da Caparica is amazing 26 km long coastline of sandy beaches, with the huge and powerful Atlantic waves. From our place it takes around 45 minutes to go to Costa da Caparica by public transportation or around 10 minutes by car. Its a big difference of time, because the system of public transportation, especially buses, is not as simple and user-friendly as in Poland. For example every stop is for request, so it makes a bit mess with the bus schedule and you never know what time the bus exactly arrives. Thats why i prefer to go with the trams, and sometimes the fastest and the easiest way is just to take a Cab.
I like to go to Costa da Caparica, it is very relaxing after the day in the office, to sit on the sand, watch waves and sufers surfers who spend hours to practice their passion there. People sit on the sand and enjoy the sun, some othe people walk their dog aroud, and other people just walk or run along the promenade on the coastline. Near to the beach there are many hotels, restaurants and place to eat. A bit further there is one very big nice park, where you can walk. On sundays in this park there is a special meeting: parenst and their children meet and celebrate birthday of children. They organise music, birthday decorations and cake. They spend time together talking, eating and having fun together. Nowadays days are short, so when we finish our work in the office, we can not enjoy the beach, but we still can go there and watch sunset.
On last Sunday I went with my friends there. I like to go there to have lunch. There are very nice places with food. My favoritue one is the place where you can find brazilian food for example tapioca, panquecas or you can find here even Açaí bowl, there are also vegan options. There is many places like that. It s very easy to find nice place to sit with friends and talk. We found a brazilian place with food and order pão de queijo, torradas and coffee. We also went to see Cristo Rei. From the statue of Cristo Rei where you can enjoy a spectacular view of the bridge and beautiful panorama of Lisbon and the other side of the river Tejo. A few pictures: